I decided to build a new set of wheels for the Xstream. The only wheels I have for it are a set of heavy, bombproof commuting wheels and a set of HED aero wheels. Since I'm no longer commuting, I've been wanting something nicer and lighter than the commuting wheels. And the HED aero wheels are a bit too much in crosswinds for every day riding. Both those sets of wheels are 559 wheels. The Xstream can use either 650C (571) or 559 wheels, but I want to stay with 559 wheels on it so I can run a wider tire on the rear wheel.
I always scratch my head as I read Randy Schlitter's writings about how bone jarring the ride of a high racer is, compared to that of a long wheelbase bike. I've always found exactly the opposite to be true. A high racer has a better balance of weight ratio between the front and rear tires, and with a very reclined euro style seat like that on my Corsa, my own weight is spread out all along my back. A 650c x 23 tire gives a passable ride on the Corsa.
On the other hand, with my Xstream, Stratus XP, Nimbus, and every other long wheelbase bike I've ridden, almost all of my weight is on the rear tire, and with a more upright seat, almost all of my own weight is on my behind. A 23mm wide tire just gives an unacceptable ride. Even a 25mm tire rides too harsh to suit me. On my Xstream, I want at least a 28 mm wide tire on the rear wheel. I have two sets of Conti Grand Prix tires that still have some miles left on them. One set is 28mm wide and the other is 25mm. I'm designating them as two sets of tires for the Xstream, but with the 28′s as rear tires and the 25′s as front tires.
I decided on Velocity A23 rims for the wheelset. These are performance road rims, but they're one of the new generation of slightly wider road rims, so I figured they'd be perfect for 25mm and 28mm tires. They're also one of the few performance road rims made in the 559 size. I bought a 28 spoke rim for the rear and a 24 spoke rim for the front. This is a combination that's worked well for me for years on the Corsa. I bought Sapim CX Ray spokes and Rotaz road hubs for the wheelset.
I went with the standard 3 cross lacing for the spokes on the rear wheel. I have over 13,000 miles on a wheel with this same spoke count and lacing on the Corsa. The Xstream is more heavily loaded on the rear wheel, but running a wider tire, I'm hoping the same setup will hold up well on it, too. I considered radial spoke lacing on the front wheel. The 13,000 mile wheel on the front of the Corsa has this lacing, and it's a more heavily loaded wheel than the front wheel on the Xstream. I'm not sure the Rotaz hubs are as strong as the Velocity hubs on the Corsa, though, so I decided to just go with a 2 cross lacing on the front wheel. With 3 cross on the rear and 2 cross on the front, all of the spokes ended up being the same length, 264mm.
I finished building the wheels Monday evening. I loved everything about the wheels right up until the minute I started mounting tires on them. I'd never owned a Velocity rim that was hard to mount a tire on before. That statement is no longer true. Even with Velo Plugs in the rims rather than rim tape, there's no way I could have mounted either tire on these rims without my VAR tire lever. I'll be carrying that bead jack on the Xstream as long as I run these wheels. I was thinking I'd eventually run Conti Gatorskins on these wheels, but there may be no way to mount them. I have a used one I'll try mounting just as a test before I consider buying new ones for the Xstream.
I've done two rides on the new wheels, 25 miles yesterday afternoon and 25 miles this afternoon. They do ride nicer than the commuting wheels. I think I'm going to love them, except for flat changing time.
All the parts (except for the Velo Plugs – I robbed them from an old wheelset later).

Just built.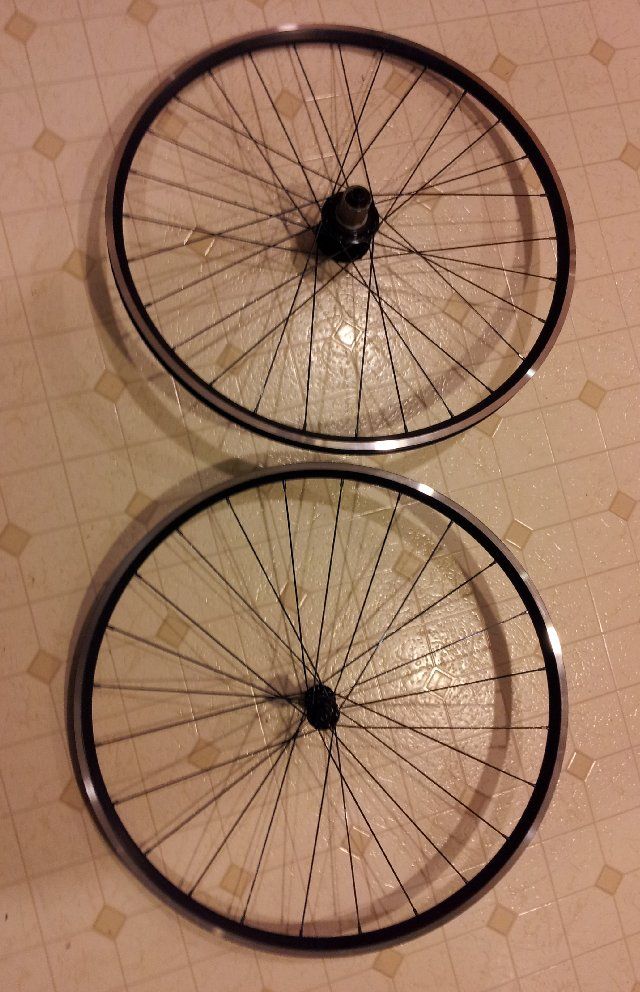 Front wheel with 25mm Conti Grand Prix tire.

Rear wheel with 28mm Conti Grand Prix tire.

Ready to go.