After lung surgery in December, and chemotherapy from February to April, I've been having a tough time recovering. My endurance seems to be slowly coming back, but I still seem to have no strength on the bike, and struggle to drag myself up any hill.
But, I decided it was time to attempt my first century of the year, at the Fort Worth Bicycling Association club ride today, called Bardwell or Bust. Today was typical almost-June Texas weather, sunny, humid, a howling south wind, and a high in the mid 90′s. The cue sheet that Jim Burrow, the ride leader, had emailed me showed an actual distance of 93 miles for the 100 mile route, so I arrived at the ride start early, and rode 7 miles on my own. I figured my first century of the year should really be 100 miles.
Before I left home for the ride, I grabbed Rose's camera. I figured since I'm only capable of "stop and smell the roses" speed right now, I might as well really stop and smell the roses, so I actually took some photos.
We rolled out of the town square of Venus at 8:00 am. Our first stop was at the town of Maypearl at mile 18.4. The next stop was mile 35 at Italy. There, all of the other riders in the group I was riding with (translation: slow riders) split off to ride the shorter routes, so I ended up riding the next 20 miles to Ennis alone. When I pulled into the store at the stop there, on a bench in front of the store sat none other than Mark Metcalfe, along with randonneuring acquaintance, Cheri Brown. It seems I had caught Mark on one of his rare easy pace days, and I did the rest of the ride with Mark and Cheri.
I ended up with 100.1 miles, with a blazing on-the-bike average of 15.1 mph. The route had 3400 feet of climbing. This has to be the longest overall century time I've ever done, but hey, I did finish, and at this point, I'll take that.
The start/finish at the town square of Venus.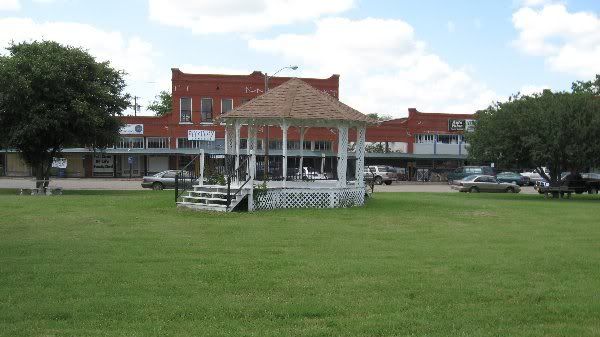 The first stop at Maypearl. In case we needed cigarettes, they were on sale.

I stopped on the bridge over Lake Bardwell, a favorite crappie fishing spot, and took this photo.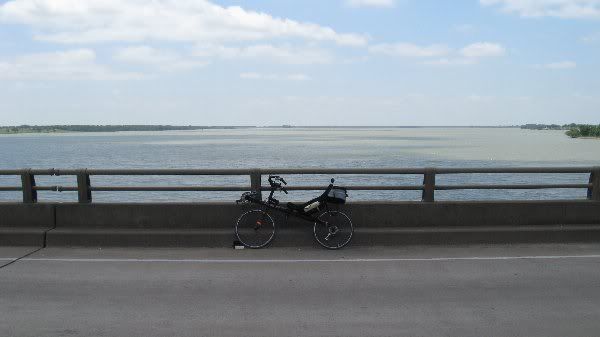 Cheri and Mark.

After I joined up with Cheri and Mark.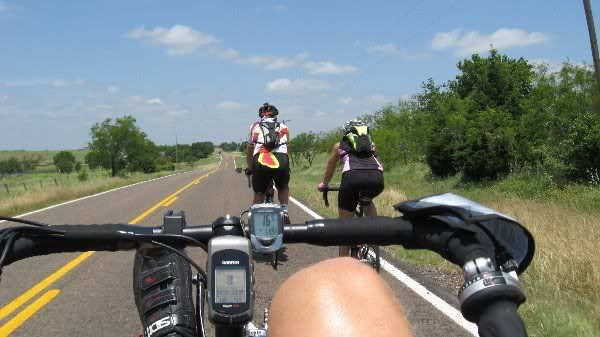 Riding across Clark Lake.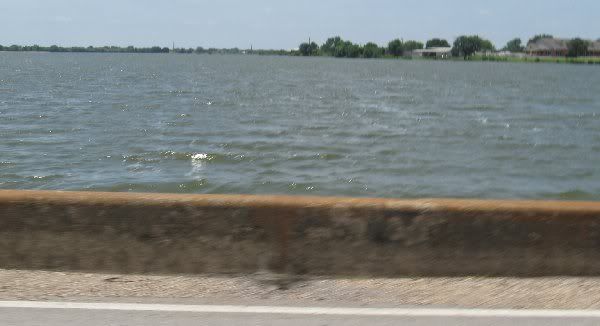 Cheri and I at the last rest stop in Waxahachie.